William Aylmer - Notary Public of Ireland
Notarial services
Call today on +353 86 28 000 45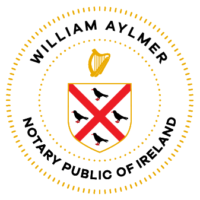 A brief history
Notaries – Certifying the truth through the ages
Notary is the oldest of the legal professions and notaries trace our professional origins to the scribes of ancient Egypt and the tabelliones of ancient Rome. From the 4th century, notaries were appointed by the Pope and Holy Roman Emperor. Columbus took a notary on his voyage of discovery of 1492, to certify the truth of what he discovered.
Notaries have been appointed for Dublin since at least 1286, when two notaries could be appointed for the City. Notarial instruments and certificates were public documents, as they are today, and were of course in Latin.
William receiving the Testamur of his Diploma in Notarial Law and Practice (Dip.Not.L) in June 2019 from Dean Mary Casey, Dean of the Faculty of Notaries Public in Ireland and The Hon. Mr Justice Frank Clarke, Chief Justice and President of the Supreme Court of Ireland.
Notaries today
Today, Irish notaries are appointed by the Chief Justice and President of the Supreme Court and at his or her pleasure are commissioned for life. Notaries (aka notaries public) are lawyers and may be defined as public officers appointed by the Chief Justice to perform a range of important functions recognised by law and usually to have effect in another jurisdiction, including:
Drawing up legal, commercial and mercantile documents, including powers of attorney;
Authenticating public and private documents, including testamurs of professional and academic qualification and documents required for intercountry adoptions;
Verifying Appearers' identities and signatures;
Protesting bills of exchange and ship protests;
Taking sworn depositions and evidence on commission, and;
Administering oaths, affirmations and statutory declarations.
In the EU context, while issues remain regarding the mutual recognition of professional notarial qualifications within the European Union, the Court of Justice of the EU found in 2011 that notaries, whether civil or common law practitioners, are equally entitled to the benefit of the treaty provisions and principles of freedom of establishment and freedom to provide services throughout the EU.
For more information about notaries in Ireland, visit the Faculty of Notaries Public in Ireland at www.notarypublic.ie
I am a notary, trust me!
William Aylmer,
Notary Public
for the City and Administrative Counties of Dublin and the Counties of Wicklow, Kildare and Meath.
Commissioned for Life.
Notarial services
William Aylmer is at your service for your notarial needs and questions. Please get in touch today to request a schedule of service fees and to arrange an appearance to have your documents notarised. You must bring original proofs of your identity and residential address in the State with you when you appear before the notary.
Call today on +353 86 28 000 45
Location
William Aylmer, Notary Public of Ireland, 30 Pembroke Street Upper, Dublin D02 EK84, Ireland
Contact
T: +353 86 28 000 45
DX: 109 047 Fitzwilliam
Hours
Monday to Friday: 9.00am – 5.30pm (and by appointment after hours)
Saturday and Sunday: By appointment